It is hype season, football fans. Seems like there are more rumors floating around than there are clouds in the sky.
The quarterback position is often the subject of these rumors linking certain teams with "being in love" with a specific signal caller or a big draft day trade that is expected to happen.
When "insiders" and draft "experts" bring these topics up, they are usually referring to the commonly ranked top two quarterbacks: North Dakota State's Carson Wentz, and California University's Jared Goff. Both quarterbacks are expected to be taken in the top-10 of the first round of the National Football League Draft, but teams have their big boards wrong if Memphis quarterback Paxton Lynch is not on the top of the list.
Whomever decides to take a chance on Lynch and build around him as their potential quarterback of the future is making a great decision, as Lynch is this year's best and most promising quarterback prospect.
Here are three reasons why:
1.) Arm talent
There is not a quarterback in this draft class that can throw farther downfield than Lynch.
At Memphis, Lynch was given the freedom to constantly take shots down field showing off his canon of an arm. Many scouts compare Lynch to Baltimore Ravens quarterback Joe Flacco because of his ability to throw the football 70-yards downfield in his sleep.
Lynch is extremely accurate on the run, giving him the ability to thrive in an offense with play action concepts implemented. Looking at you, Denver.
Often times, big armed quarterbacks are assumed to be "gunslingers," like Brett Favre, that have accuracy issues. That simply is not the case with Lynch, who in his senior season completed 66.8-percent of his passes. Lynch also averaged 9.4-yards per attempt at Memphis, which increased every year he was a starter.
Where Lynch has another advantage over Goff and Wentz is his ability to fit a pass in a tight window with rocket-like throws, but Lynch also has the ability to put touch on passes when needed. This trait is lacked even by some NFL quarterbacks like Cam Newton and Colin Kaepernick.
Overall, Lynch can make any throw in the NFL unlike Goff, who many are concerned is very limited when it comes to his arm. Extremely accurate in the pocket? Yes, but when Goff has to move around to keep a play alive, his accuracy often disappears as he struggles to throw across his body and in other awkward throwing positions.
2.) Size and athleticism
Coming into the NFL at 6′ 7″ and 235-pounds, Lynch would be one of the biggest quarterbacks in the NFL, alongside Newton and Brock Osweiler. He can take the punishment of opposing pass rushers while staying in the pocket with his eyes downfield.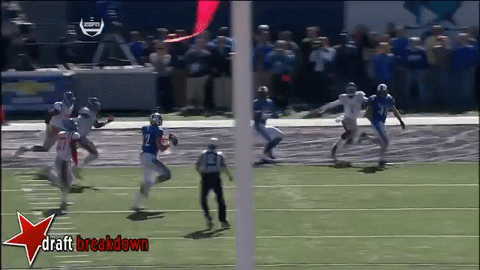 However, do not believe for a second that Lynch is Drew Bledsoe or some other statue that could not gain one rushing yard to save his life. When you see comparisons on any draft site, often Lynch is paired up with Newton, Ben Roethlisberger, or Blake Bortles. All three of those guys are extremely mobile considering they each tower over 6′ 4″.
Memphis had the read-option as a primary focal point to the offense with Lynch at the helm. In three seasons with the Tigers, Lynch had 627 rushing yards and 17 rushing touchdowns. 13 of thos touchdowns came in the 2014 season alone.
He was able to stay healthy in this aggressive scheme starting all 13 games in back-to-back seasons, proving teams can rely on him in that kind of offense.
Over the years, we have seen NFL teams covet the big, athletic quarterback that can keep defenses on their heals with the ability to break off a 15-yard run at any moment in a game.
Like Newton in Carolina, defenses are not going to enjoy bringing this guy down.
3.) His weaknesses are more correctable than Wentz and Goff's issues
While Lynch has gotten the praise, he is not the perfect prospect. There are many weaknesses to his game, but most of them are easily correctable through film study and coaching.
There are concerns about Lynch's ability to read defenses and call plays as most of Memphis' calls were coming directly from the sideline.
However with most colleges reverting to the spread offense, most quarterbacks do not have control of the offense.
Lynch's footwork could use work as well. After playing from mostly shotgun, Lynch did not have the classic seven step drop backs to grow accustomed too.
There is not a prospect like an Andrew Luck that will be an instant star in this draft. Goff, Wentz, and Lynch all need time to develop in the NFL, so why not take the guy with the most upside? However, of the three top quarterbacks available, Lynch has all the tools to be the face of a franchise.
Keep it locked to Better Live Than Dead Sports for all the latest from the NFL.